Office
One Grand Central Place
60 East 42nd Street New York, NY 10165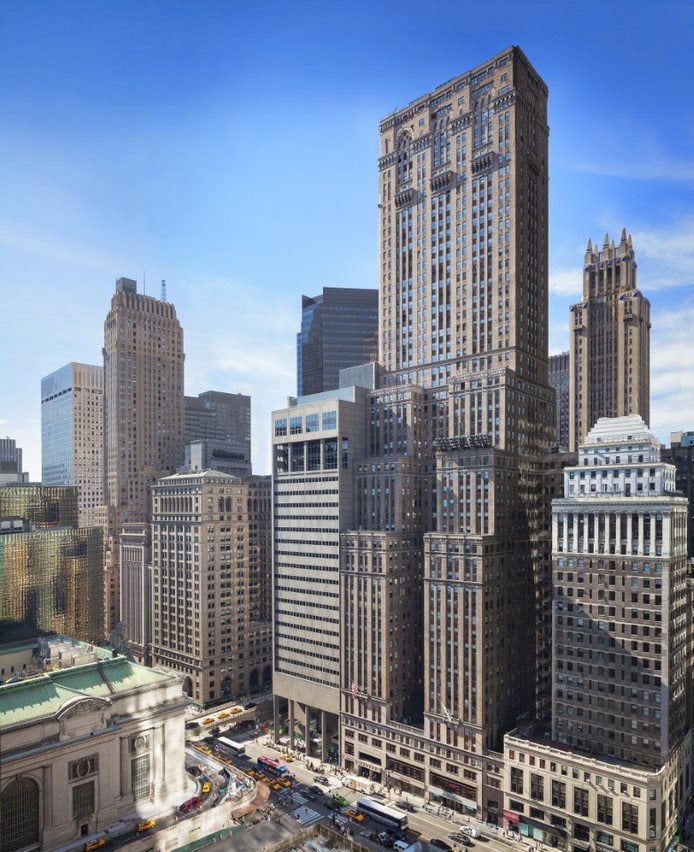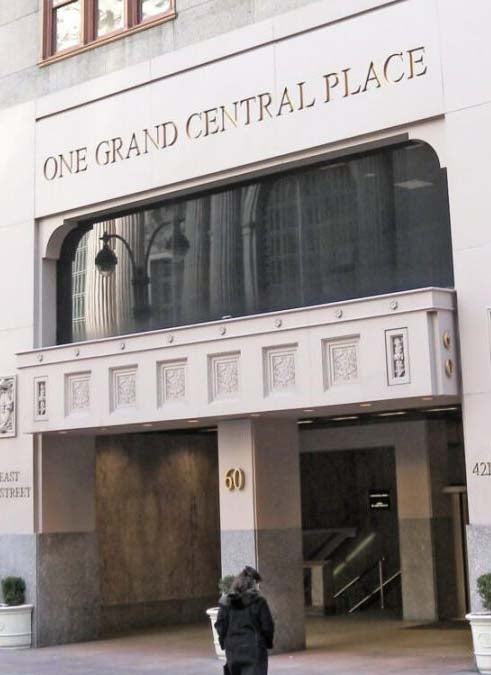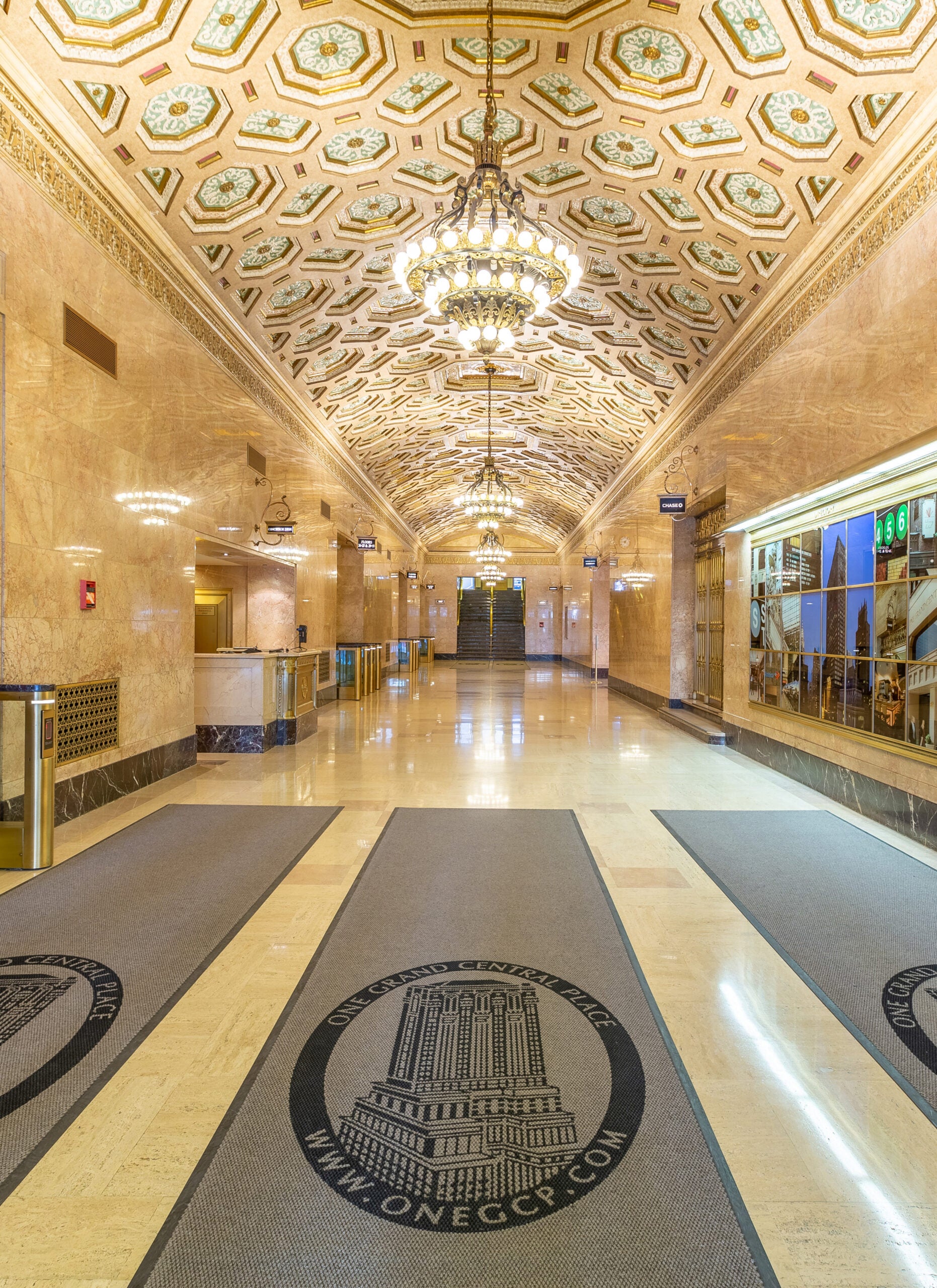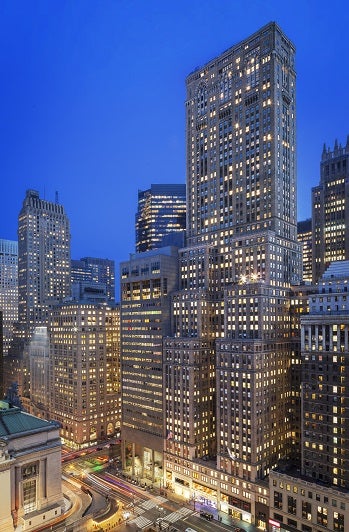 Overview
About
Building Specifications
Sustainability
Additional Information
Leasing Agents
Tour Books
One Grand Central Place is an architectural gem rising 55 stories directly across the street from Grand Central Terminal. Our thorough enhancement and upgrade program provides a first-rate infrastructure that augments a magnificently restored lobby and extensive in-building amenities to create a premier environment with unparalleled convenience. Office tenants include GLG, iCapital Network, Inc., Winged Keel Group, Inc, and CLA.
The state-of-the-art property has completed upgrades to its windows, elevators, air-conditioned public corridors and restrooms, and building-wide systems, including electrical, plumbing, HVAC, and security. ESRT is the first portfolio in the Americas to be WELL Certified by the International WELL Building Institute. Additionally, ESRT is a Fitwel Champion, is 100% fully powered by renewable wind energy, earned the 2021 ENERGY STAR Partner of the Year Award, and has received Five Stars, an A rating, and a score of 94 from GRESB. As a leader in sustainability, energy efficiency, and Indoor Environmental Quality, ESRT can help your client meet its sustainability goals (76% of our eligible portfolio is ENERGY STAR certified). ESRT supports these efforts with its own corporate sustainability leadership and is publicly traded on the NYSE with a best-in-class balance sheet.
In-building services include a visitor center, tenants-only conference center, dining options: 6b, Pera Mediterranean Brasserie, Blue Bottle Coffee, JPMorgan Chase Bank, FedEx and Charles Schwab. Additional office services, dining, lodging, and specialty retailers within the immediate vicinity including in-building access to Grand Central Terminal's numerous shopping and dining options.
One Grand Central Place is unmatched in access to mass transportation with direct in-building access to Grand Central Terminal and all its commuter trains; 12-minute walk to Port Authority Bus Terminal; and steps from 5 subway lines. Direct access to the Long Island Railroad (LIRR) available through Grand Central as well.
directions
42nd Street between Madison and Park Avenues
architect
Kenneth Norton of J.E.R. Carpenter
rentable sq ft
1,315,725 rentable
floor plate size
9,400 - 48,900 rentable square feet
floor load
60 lbs. per square foot
ceiling height
11'-17' slab-to-slab; 9'10" slab-to-beam
transportation
Direct in-building access to Grand Central Terminal, 5 subway lines: 4, 5, 6, 7, S, Metro-North and LIRR.
connectivity & wifi
DAS and Wired Score Gold
Our environmental sustainability program provides leadership and sets standards in innovation and technology. We focus on quantifiable improvement in energy efficiency, water efficiency, recycling, and waste diversion. ESRT's cutting-edge work in energy efficiency, for the benefit of our tenants and the environment, is recognized worldwide.
elevators
27 passenger, 2 freight
operating hours
8:00 A.M. to 6:00 P.M. Monday - Friday, building access 24/7
electric
Submetered electric in all new spaces over 2,500 square feet
hvac
Tenant controlled air-cooled package units and water-cooled units; air conditioned common corridors; perimeter radiant heat
access
24/7 security, card access controlled, web-based visitor processing system, visitor reception desk
parking
Numerous parking garages located in the immediate vicinity
loading facilities
Freight entrance on 41st Street
Leasing Agents
60 East 42nd Street New York, NY 10165
Sustainability at One Grand Central Place
Green Scorecard
Goals
20% reduction in energy use by 2024
High Performance, Healthy Buildings
Indoor Environmental Quality (IEQ) improves employee health and productivity. We've created a program of industry-leading healthy suites to provide tenants with the opportunity to maximize their IEQ, employee recruitment and retention, and their bottom line.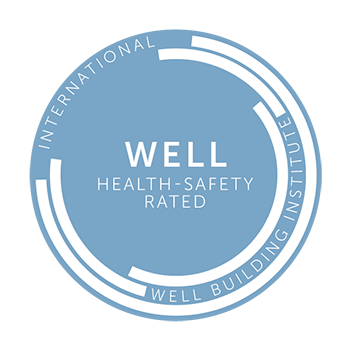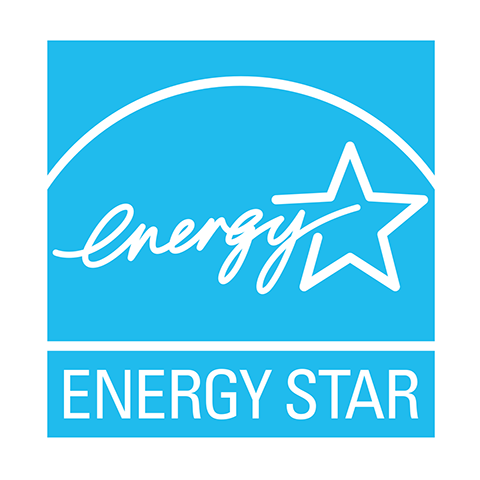 Amenities
Conference Center
In-building access to Grand Central Terminal
In-building dining: 6B, Pera and Blue Bottle Coffee
Inside iCapital: How Partnership with ESRT Creates a Tailored Workspace!

ESRT's One Grand Central Place is a workplace sanctuary for global fintech company iCapital, who partnered with ESRT to expand from one office floor to six. Hear from Jennifer Ashley, managing director and chief people officer at iCapital, as she discusses the building's prime location near Grand Central Terminal, the benefits of in-person collaboration, and ESRT's mentorship in sustainability and indoor environmental quality.

Flight to Quality
Fully modernized, energy efficient buildings that focus on providing our tenants with top tier amenities and a healthy environment at a lower price than the competition