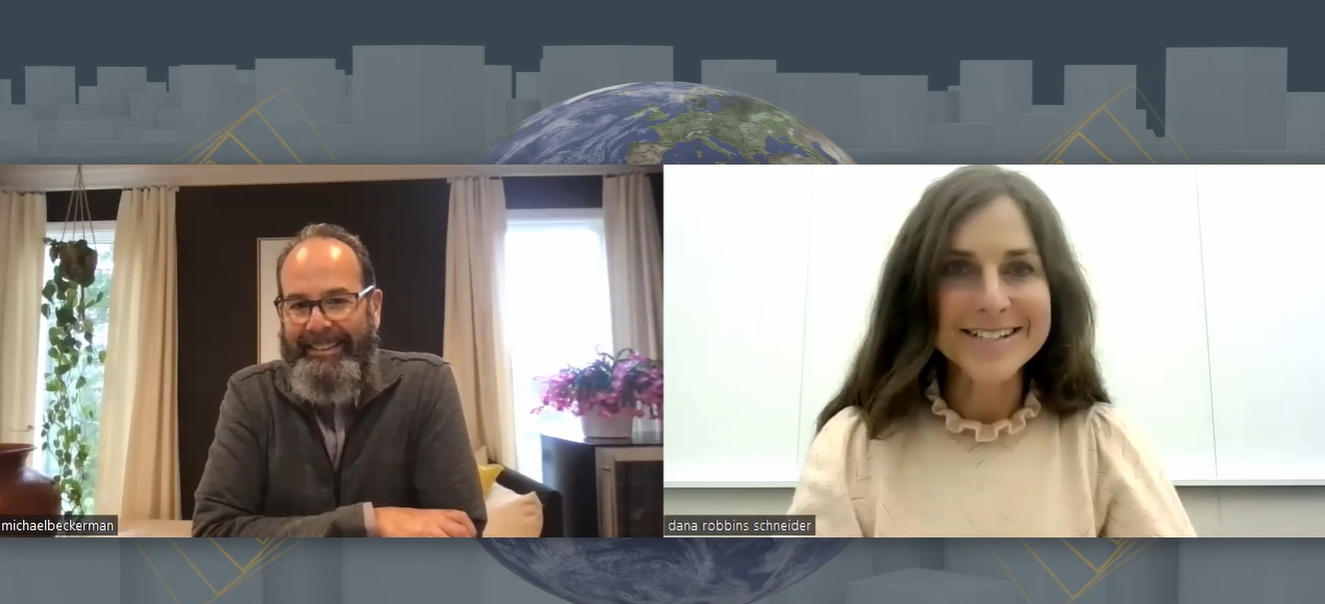 Thought Leadership
"Be Part of the Solution" – Dana Robbins Schneider joins the CRETech Podcast
ESRT's SVP, Director of Energy, Sustainability, and ESG Dana Robbins Schneider joined CRETECH Climate's CEO Michael Beckerman on the CRETECH Climate Podcast to discuss ESRT's sustainability milestones, highlights from the "Empire Building Playbook: An Owner's Guide for Low Carbon Retrofits," and her childhood passion for environmental conservation. 
On the Empire Building Playbook
"It's free, it's open protocol, it's not copyrighted. None of it is technology dependent. These are solutions that you could roll out in any building anywhere around the world. All you need is a great engineering partner and every building needs one of those anyway. The idea is to just follow the process we've laid out, which is very data driven, [with] the best practice to follow. We're sharing the tools that we've developed so you don't have to make any of them. We came up with a detailed, techno-economic approach to phasing the work over time which is why carbon [neutrality] is such a big piece to a pathway to net zero. It's better economically, because you don't want to replace equipment [before] the end of its useful life. Its better from an embodied carbon perspective for that same reason, and you don't want to disrupt the tenants, so as the leases roll we partner with them to design and build and replace in a net zero, more responsible way."  
On Participating in Technical Groups
"When I started volunteering on those technical groups, I realized that cities that lead – New York, San Francisco, Boston – rely on the subject matter experts in their city to contribute. I think it's your duty to do that. If you didn't participate in the process, then they were missing you when they needed you. We try to be really strategic where we work, [like on] Local Law 97, because it's our future at stake. Not only to make it meaningful or successful, [but] to inform it. Policy has to be informed by successful practice. You can't just have academics developing these things – they're amazing and brilliant, but they might not understand the ramifications of the rules they're making in real life. So, I try to bring that balance of optimism and blue–sky thinking with what happens in the real world and [make] sure that the policies reflect what's possible [with the] understanding that engineering has to be constructable, and the payback has to be demonstrable, or your CFO will never approve it."  
On Global Progress in Sustainability
"I don't think we've come far enough, but I think we've come far. When I graduated from college, I had [to explain] for years what sustainability meant [and] what sustainability was. Now we're having very real conversations that people like me have known [about] for a very long time. I think that it's becoming more mainstream how important this is; that it's not political, that it's science based, that we have to do it, and that it makes economic sense to do it whether you believe in why or not. So, I think that we've made profound progress if you take us from a baseline of many people [not having] an understanding [of] what this is. I think there are still many people who don't believe in it, and we need to convince them so this is something we do together that is not political, and that everybody partners on together to achieve understanding that it benefits the whole world. It benefits you. Whether you're looking at it altruistically, or you don't care at all about climate change and you just want to make money, we've made that case either way. I just want people to do it."  
Watch the full podcast here. 
Learn more about ESG at ESRT!
ESG

Flight to Quality
Fully modernized, energy efficient buildings that focus on providing our tenants with top tier amenities and a healthy environment at a lower price than the competition