About
Located at Herald Square and Greeley Square between 6th and 7th Avenues, 112 West 34th Street contains 26 floors and 728,429 rentable square feet of modern office space for tenants, large and small. Office tenants include Macy's and Empire State Realty Trust's corporate headquarters.
Recently completed renovations in the building consist of a completely refurbished stone and marble lobby, new elevators and new entryways on both 33rd and 34th Streets designed by STUDIOS Architecture. Additionally, the top to bottom substantially completed enhancement and upgrade program includes a sleek, modern and energy-efficient glass curtain wall, full- service visitor desk with concierge services, new restrooms and air-conditioned public corridors. Building-wide upgraded systems include state-of-the-art life safety, electrical, security, plumbing and HVAC with a direct digital control Building Management System (BMS), and other energy efficiency upgrades.
In-building retailers include: Foot Locker, Sephora, Target and Tissot.
The building offers versatility and unparalleled convenience for its tenants. The neighborhood provides every amenity including office services, shopping, dining, lodging and the best views of the Macy's Thanksgiving Day Parade! Located in the middle of the Herald Square transportation hub, 111 West 33rd Street is a 3 minute walk to Penn Station, the PATH; 10 minutes to the Port Authority Bus Terminal; steps from 16 subway lines.
Leasing Agents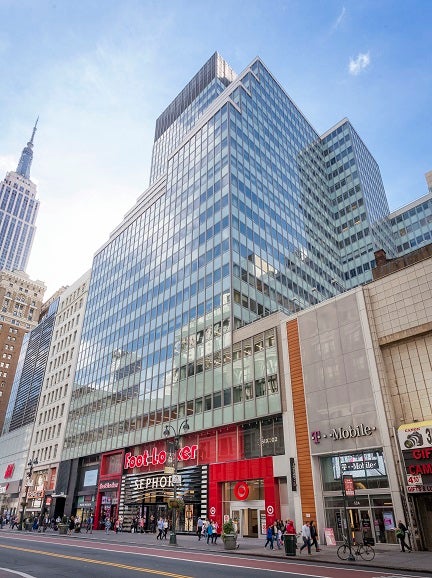 Leasing Agents
112 West 34th Street New York, NY 10120
We make modernized buildings, IEQ and energy efficiency accessible to the thousands of tenants with Flight to Quality
Availabilities
PROPERTY
FL
SUITE
SQ. FT
FLOOR PLAN
OCCUPANCY
111 West 33rd Street
01
100
1,793
FL: 01
SUITE: 100
SQ. FT: 1,793
Across from Macy's Flagship Store and close proximity to Madison Square Garden. Convenient to Penn Station, Port Authority, PATH, and 14 Subway Lines. 21' Frontage, 27' Ceiling Height. Multi-level space with a total of 3,364 sq.ft. Great branding visibility from 2nd floor LED screen.
Leasing Agents
111 West 33rd Street New York, NY 10120
Recent Property News
Target Announces First Midtown Manhattan Store at Empire State Realty Trust's 112 West 34th Street Location
March 20, 2017
Read More

Flight to Quality
Fully modernized, energy efficient buildings that focus on providing our tenants with top tier amenities and a healthy environment at a lower price than the competition