Our environmental sustainability program provides leadership and sets standards in innovation and technology.
We focus on quantifiable improvement in energy efficiency, water efficiency, recycling, and waste diversion. ESRT's cutting-edge work in energy efficiency, for the benefit of our tenants and the environment, is recognized worldwide.
For more than a decade, we have prioritized healthy work environments for our tenants and employees through IEQ. To foster employee health and productivity, we partner with our tenants to empower them to be better designers, builders, and operators of their own spaces.
HIGH PERFORMANCE, HEALTHY BUILDINGS
---
For more than a decade, improving IEQ has been a key tenet of our sustainability strategy. Our industry-leading, comprehensive and state-of-the-art program focuses on operational best practices including MERV-13 filters, bipolar ionization air purification technology, indoor air quality testing, CO2 sensors, and monitors to ensure healthy, productive spaces, green cleaning practices, integrated pest management strategies, and low-emitting materials.
High-Performance, healthy building guidelines are integrated into all leases. These guidelines include performance-based criteria for energy, water, healthy IEQ, responsible materials specifications and waste diversion.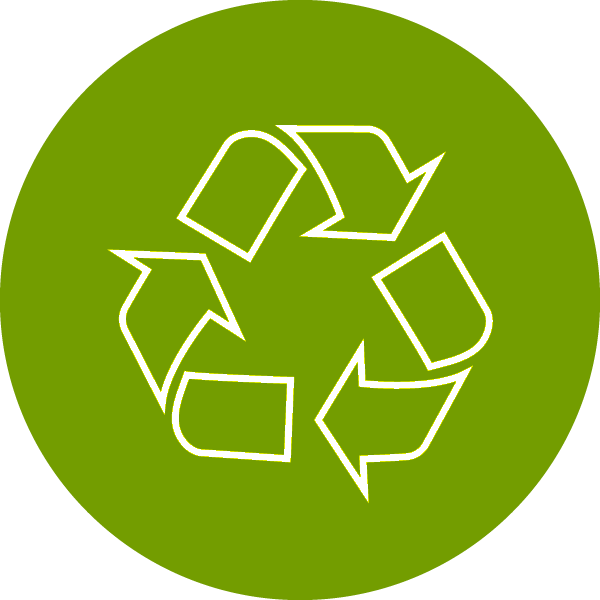 Sustainability Policies
We have developed Standard Operating Procedures which are consistently implemented and tracked throughout 100% of our buildings. These are intended to set goals, strategies, best practices and resources to equip our property management and buildings operations staff to implement practices in alignment with our strategy. See SOPs
Vendor Code of Conduct
Our vendor code of conduct guides ESRT vendors to meet our mandates and helps promote and measure sustainability, diversity, and ethical conduct in our vendor relationships. We seek vendors that provide services that embrace ESRT's commitment and enforce the code provisions throughout their organization and across our supply chain. See Code of Conduct
Tenant Engagement
Our engagement with tenants begins with the integration of a suite of sustainability provisions in all of our leases. Our lease requirements encourage collaboration between tenant and landlord to achieve efficiency improvements. We share energy, waste, and IEQ data with our tenants, and provide hands-on expertise to ensure continued sustainability performance.
Data Driven Performance
---
The foundation of our sustainability program is to measure, manage, and
evaluate performance against our goals. We leverage data management platforms and cutting-edge technologies to provide advanced analytics
and insights to inform and improve our performance.
We partner with a leading energy analysis firm to review energy supply, demand, budgets and pricing to plan accordingly for energy supply and current and future renewable sources.
To achieve our goals, we focus on ROI-driven energy efficiency strategies in leading technology and advanced analytics — supported by quantifiable performance improvements across the portfolio.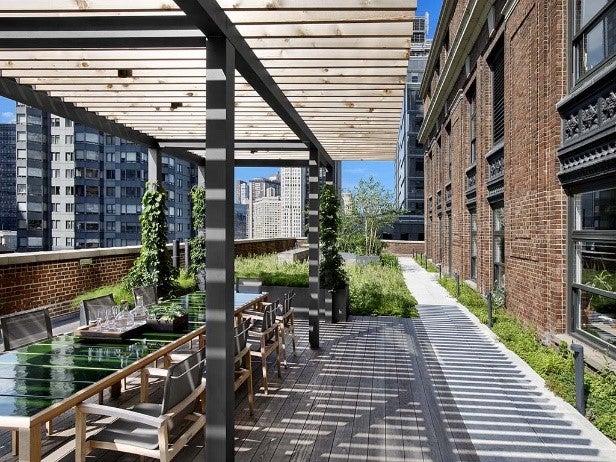 GOALS & ACCOMPLISHMENTS
---
We believe in the power of building performance to improve employee productivity, enhance our competitive position and reduce our impact on the built environment. Our sustainability strategy and implementation of best practices, state-of-the-art technologies, and results driven initiatives position us to set the standard for real estate companies.
We treat our portfolio as a laboratory and we continuously evaluate new and emerging technologies to optimize performance across our key priority areas to reduce energy, greenhouse gas emissions, water, waste consumption while promoting IEQ.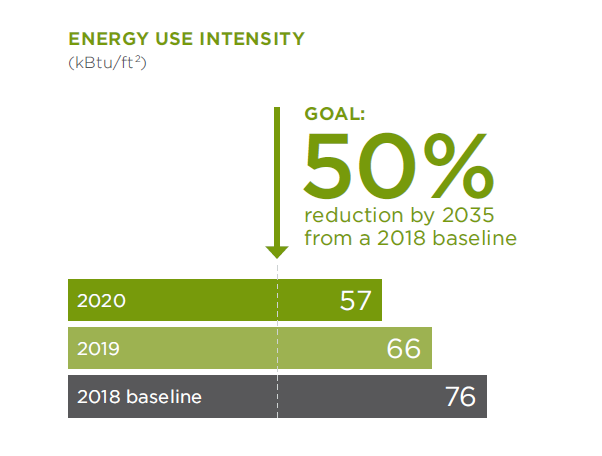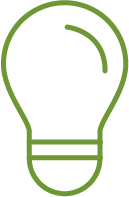 ENERGY Goals & Accomplishments
---
Targeting a reduction of energy use intensity by 20% by 2024 as part of the U.S. Department of Energy's Better Buildings Challenge
100% of Portfolio Fully Powered by Renewable Wind Electricity. We have purchased 100% renewable energy at Empire State Building since 2010 and portfolio wide as of January 1, 2021
Nation's largest 100% user of green power in real estate per EPA Green Power Partnership report given that 100% of our portfolio is covered by renewables
#1 Most energy efficient REIT in NYC based on kgCO2e per square foot per Morgan Stanley February 5, 2020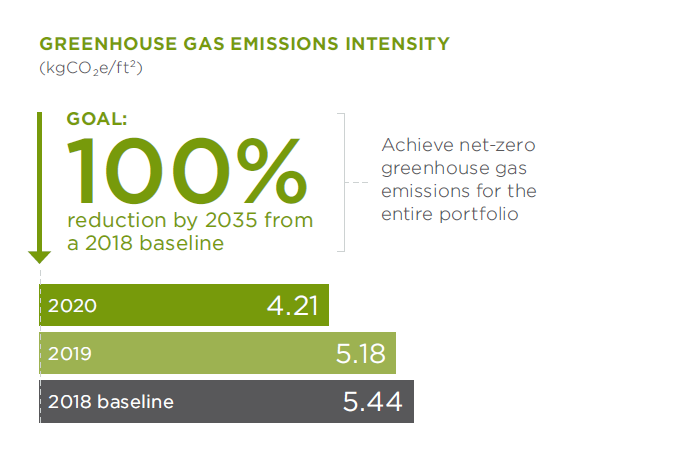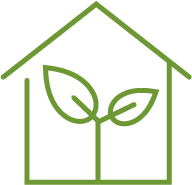 Commitment to Operational Carbon Neutrality
---
Empire State Realty Trust has achieved Carbon Neutrality for its entire portfolio through a combination of its industry leadership in building energy efficiency retrofit work and a new, three-year agreement with 18 Reserves and ACT to support the preservation of close to 9,000 acres of biodiverse forest that will offset 100% of its non-electric fossil fuel usage.
Target of 80% emissions reduction at ESB by 2030 and throughout the commercial portfolio by 2035, in partnership with a more renewable grid.
As we reduce emissions through our Empire Building Playbook work, we will offset our fossil fuel emissions through accredited sources until we reach our reduction goals.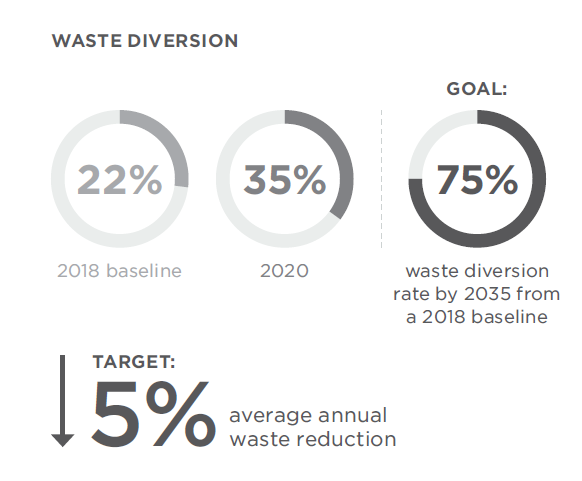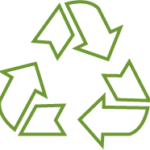 WASTE & RECYCLING Goals
---
Target a reduction of waste generation 5% year-over-year
Target 75% waste diversion rate by 2030 from a 2018 baseline
Perform waste audits at 100% of properties annually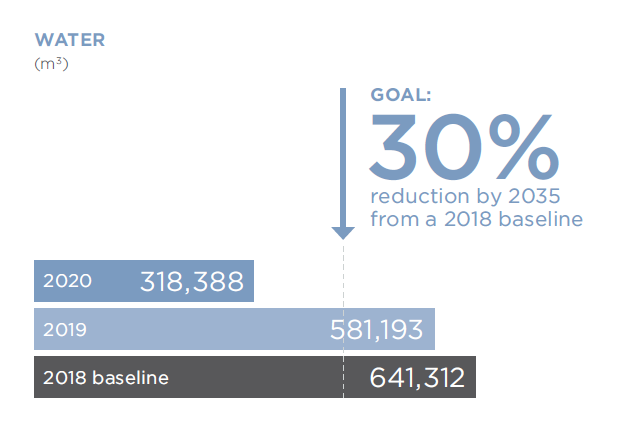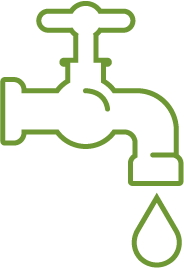 WATER Goals
---
Target reduction of water 2% year-over-year
Target 30% reduction by 2035 from a 2018 baseline
Implement ultra-low flow touchless fixtures in all renovations
Phase in real-time water metering software across portfolio between 2020-2025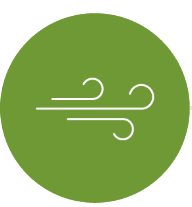 INDOOR ENVIRONMENTAL QUALITY Goals
---
Indoor Environmental Quality (IEQ) improves employee health and productivity. We've created a program of industry-leading healthy suites to provide tenants with the opportunity to maximize their IEQ, employee recruitment and retention, and their bottom line.
MERV 13 filters in 100% of ESRT-controlled HVAC Systems
Meet or exceed ASHRAE 62.1 standards for ventilation at 100% of properties
Perform comprehensive indoor air quality testing at 100% of properties
Implement green cleaning and integrated pest management practices at 100% of properties
No or low VOC and no Red List Materials required as part of High-Performance Sustainable Healthy Building Guidelines
Continue our rollout of active bipolar ionization air purification in select public areas and all new pre-builts, currently installed in over one million square feet across the portfolio
Contact Us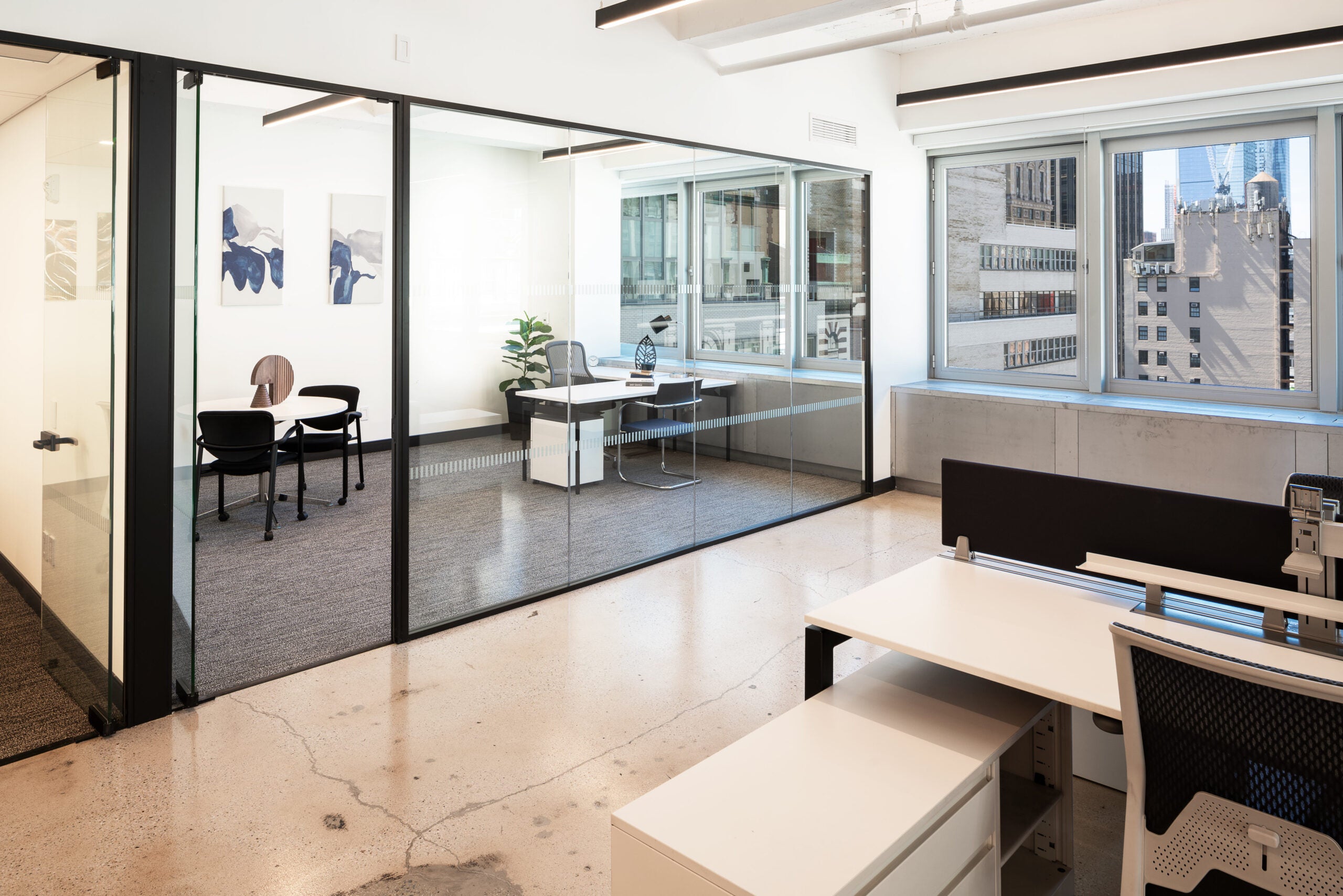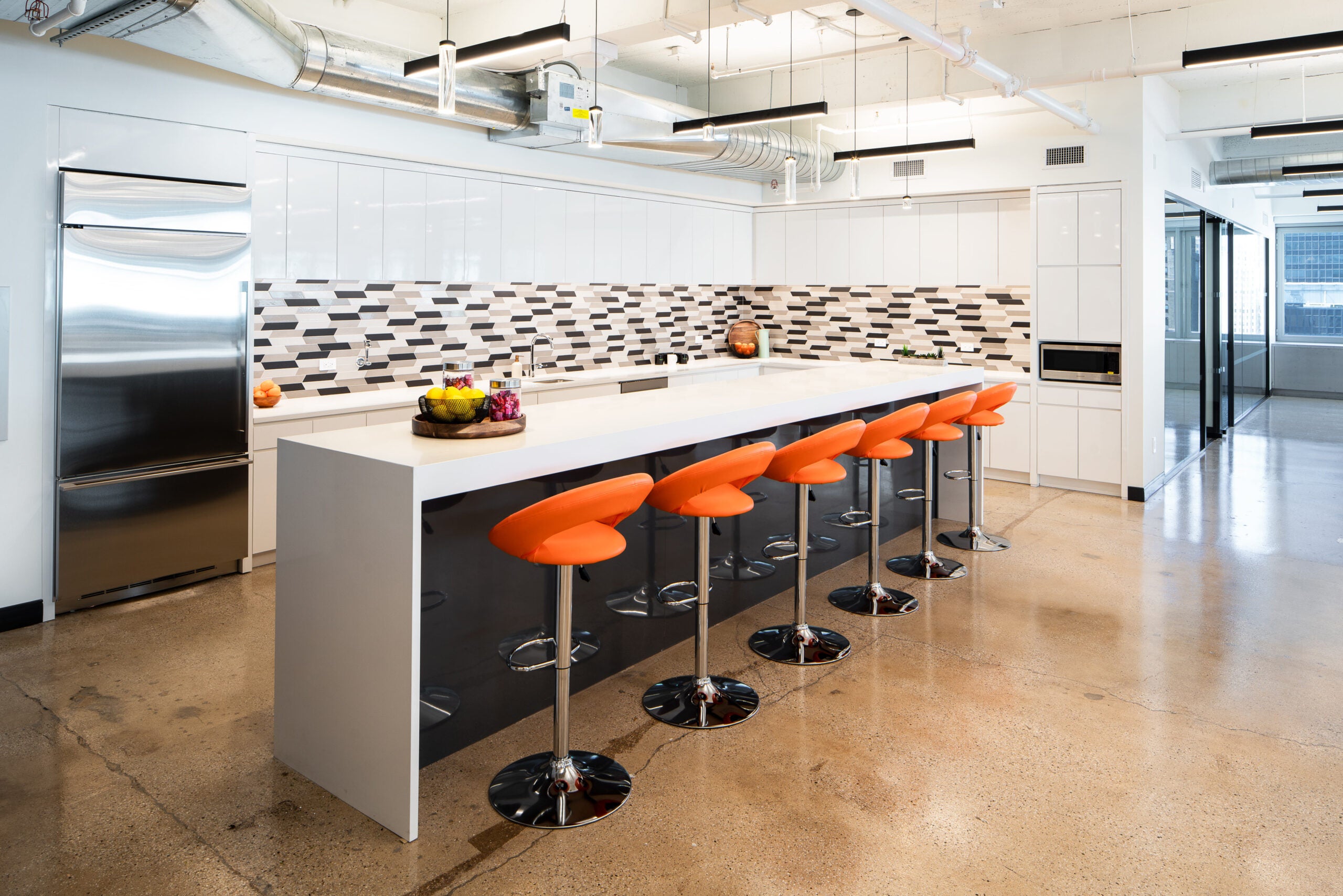 ESG DISCLOSURE AND CERTIFICATIONS
Pursue ENERGY STAR Certification at 100% of eligible buildings
Report to GRESB annually
Align reporting with Task Force on Climate-Related Financial Disclosures (TCFD), SASB, and GRI as feasible
Perform third-party data verification in alignment with ISO 14064-3
Maintain WELL Health-Safety Rating annually
Environmental Management System aligned with ISO 14001 adopted in 2020
Climate Change Adaptation and Resilience plan intended to align with TCFD
All goals and targets represent like-for-like comparisons for assets owned for 24 consecutive months across the current and previous reporting year
ENVIRONMENTAL PERFORMANCE
---
ESRT commits to disclose key environmental performance metrics across energy, GHG emissions, water and waste to track , evaluate & improve performance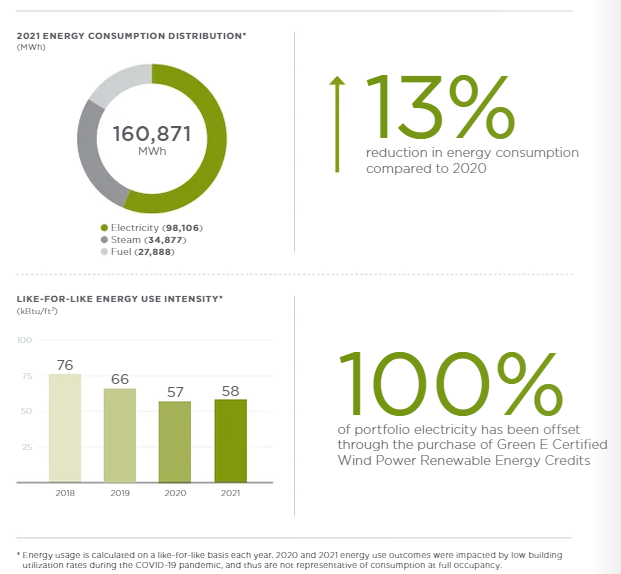 Energy Performance
---
To achieve our goals, we focus on ROI-driven energy efficiency strategies in leading technology and advanced analytics – supported by quantifiable
performance improvements across the portfolio. We have developed a holistic energy efficiency approach with tactics to support our assets.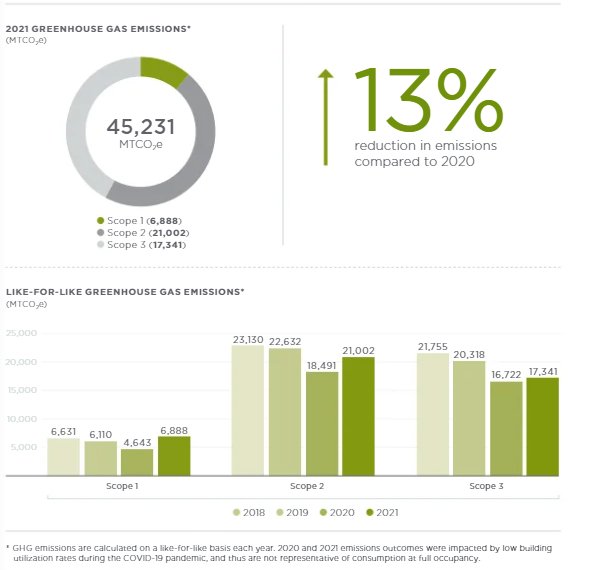 GHG Emissions Performance
---
To keep driving down our carbon emissions, we will continue to reduce our energy consumption, procure renewable energy credits to offset emissions from electricity consumption, evaluate opportunities for on-site or community-based renewable energy and storage where viable, and partner with policymakers to drive a renewable and resilient grid.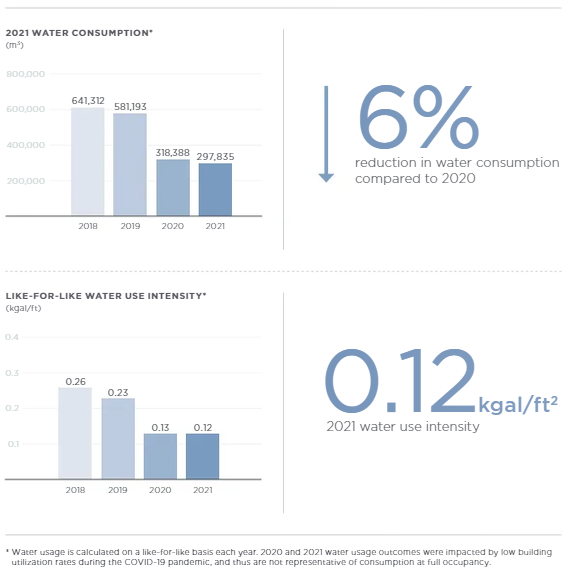 Water Performance
---
We implement water efficiency strategies to support our water reduction goals and minimize our impact on the environment. Our water efficiency initiatives include a combination of retrofits, submeters, and pilot technology.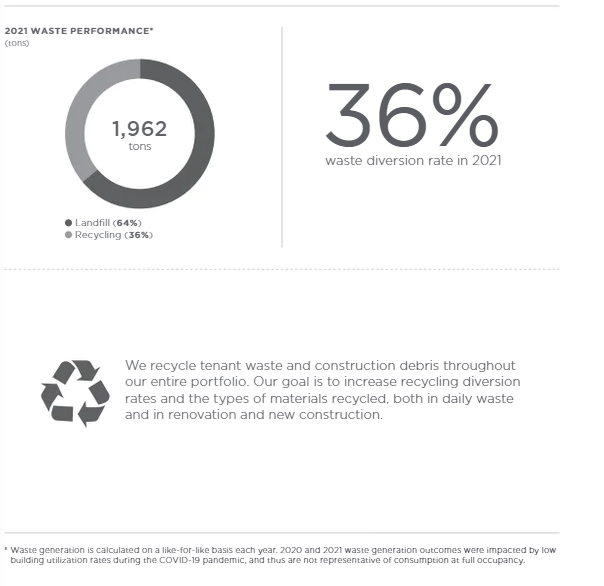 Waste Performance
---
We deploy aggressive waste diversion strategies that meet and/or exceed local regulations, as feasible. We provide training and set best practices and standards for our employees and outside contractor teams to reduce overall waste generation and increase diversion rates.
We identify opportunities to track and report waste at each property to ensure that all waste is being collected and diverted in accordance with ESRT's guidelines.