As a company, we are committed to the creative of a diverse, equitable workplace that actively promotes employee development and drives social impact, good corporate governance, and transparency in reporting.
Who we are is what we do. Our people drive our long-term success and growth, and we are committed to promoting their own health, wellbeing, and personal development to reach their full potential. We foster a diverse, equitable, and inclusive workplace through training and development programs, specific strategies to diversify our workforce, and full transparency as we strive for measurable goals. We do all of this to carry out our company's mission to create healthy and resilient communities.
Tenants
Brokers
Employees
Shareholders
Community
DIVERSITY, EQUITY & INCLUSION (DE&I)
---
We believe diverse perspectives and experiences enhance effective decision making and innovation. We strive to create a diverse, inclusive workplace where people can be authentic in their roles. We want to continue to increase our diversity, particularly in leadership roles.
We aim to enhance the DE&I of our organization through transparency and disclosure of the U.S. Equal Employment Opportunity Commission (EEOC) diversity data at all levels and implementation of formal policies that mandate diversity in candidate pools for new hires, encourage promotion and advance of diverse persons, and prohibit discriminatory practices in the workplace.
We are committed to transparency and disclosure of key diversity metrics at all levels of the organization including race, gender, age and age group distribution.
OUR DE&I POLICIES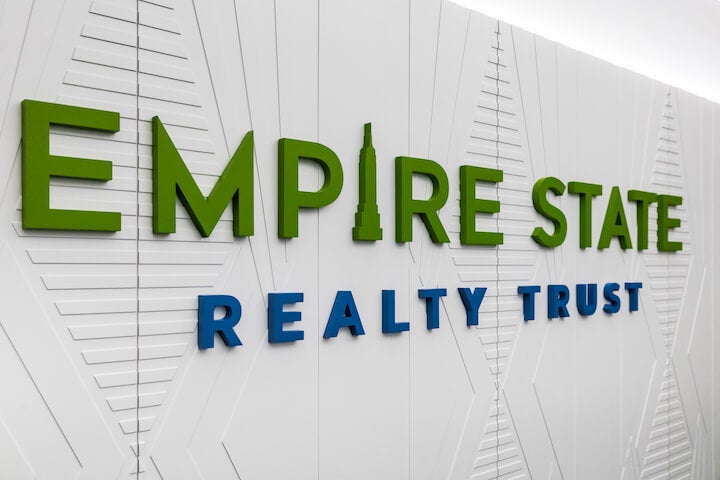 Hiring Practices
We are focused on diversity in applicant pools for every hire. To do this, we have implemented systems to track candidates through the HR process to ensure at least 25% of candidates presented to hiring mangers for open roles represent diverse persons, where possible. We work with our recruiting firms to emphasize our requirement for highly qualified candidates from diverse backgrounds.
We have also mandated two minority participants from NYC in our internship program.
Discrimination-Free Workplace
As outlined in our Employee Manual, everyone has the right to work in an environment that promotes equal opportunities and prohibits discriminatory practices, including sexual and other discriminatory harassment and retaliation. In keeping with this commitment, we will not tolerate unlawful discrimination (including any form of unlawful harassment or retaliation) at work or in work-related settings by or against anyone.
Pay Equity
We believe people should be paid for what they do and how they do it, regardless of gender, race, religion, or other identity or personal characteristics. We set pay based on market data, as well as an individual employee's performance, experience and seniority. We consult with an independent third-party expert to review our pay practices.
BOARD OF DIRECTORS
Our Board of Directors represents diversity in age, gender, perspectives, and experience. We value each component as a link to new ideas and constituents. The diversity metrics are based on independent Board members.
SENIOR MANAGEMENT (VICE PRESIDENT & HIGHER)
ALL EMPLOYEES
COMPANY CULTURE
---
We are dedicated to improving our corporate culture to maximize talent attraction, employee retention and productivity. To strengthen company culture, we gather feedback through employee surveys and listening sessions and integrate such feedback into employee offerings.
EMPLOYEE SATISFACTION
Our commitment to our employees is exemplified by the results of our 2020 annual employee satisfaction survey
LEARN MORE ABOUT ESRT's COMPANY CULTURE & COMMITMENT TO INVESTMENT IN HUMAN CAPITAL
INVESTMENT IN HUMAN CAPITAL
---
We believe continuous learning by our employees supports productivity, innovation and retention, as well as personal and professional growth for the individual employee.
We aim to increase employee participation in our firm-wide training platforms like LinkedIn Learning and to increase the quality of career development opportunities available to employees.
We invest in training, including certain programs which are mandatory for all employees, and other programs which are voluntary and self-directed on platforms provided to all employees by the company.
96%
of employees were proud to work at ESRT
96%
of employees reporting having strong partnerships with their colleagues
100%
of employees engaged in coursework in 2020
64%
of employees completed voluntary coursework in 2020
EMPLOYEE SAFETY, BENEFITS, HEALTH & WELLNESS
---
The safety, health, and wellness of our employees and their families are a primary focus for us. To support this commitment, we provide a range of programs and robust and comprehensive benefits package to our corporate employees.
COMMUNITY ENGAGEMENT
---
Our buildings are part of our communities, and we are present and actively engaged to make them better places to live and work. Empire State Realty Trust is a fixture in the communities where we operate and have developed strong partnerships to foster community engagement and leadership. Through our employee volunteerism and philanthropy efforts we can achieve our goal of strong communities and a healthy planet.
In 2021, we aim to enhance our employees' volunteer and community engagement opportunities with organizations they feel passionate about that align with our company's mission to create healthy and resilient communities
EMPIRE STATE BUILDING RUN-UP
---
The annual Empire State Building Run-Up challenges runners around the world to race up its famed 86 flights and 1,567 stairs, which some constitute as the ultimate test endurance. In 2019, the event was sponsored by Turkish Airlines and powered by the Challenged Athletes Foundation (CAF), the official charity of the run-up. As a world leader in helping people with physical challenges lead active and healthy lifestyles, CAF believes that participation in physical activity at any level increases self-esteem, encourages independence, and enhances quality of life. In 2019, approximately 200 runners from around the world participated.